SCM-FLOW® Mobile Secondary Containments are designed to be mobile, making secondary containment feasible for anyone with smaller containment needs.  The units are not installed and may be moved from location to location with ease. Mobile secondary containment units are ideal for railroad spill prevention and containment, outdoor storage of equipment prone to leaking oil, and situation where quick response emergency spill containment is necessary.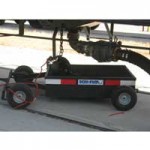 SCM-FLOW® Cart Drip Pans were designed to be used as a mobile secondary containment. The SCM-FLOW® Cart Drip Pan is placed at (or under) a drain or connection site to capture any oil loss, enabling the oil to be reclaimed and prevent oil spills and costly spill clean up. Much like the other SCM-FLOW® products, in the event that the Cart Drip Pan takes on water, the SCM-FLOW® installed will stack the oil in the Cart Drip Pan allowing water to flow through while capturing the oil.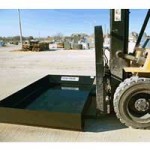 If inside storage is a problem at your facility, our drip pan allows you to store leaking, oily equipment outside, and at the same time, prevent a costly oil spill cleanup. The oil is simply captured in the Drip Pan from the leaky equipment. In the event of rainfall, the rain water is discharged while the oil remains trapped within the Drip Pan, making it ideal for outside storage of leaking or potentially leaking equipment. The Drip Pan is designed to be moved with a forklift. It is an excellent product choice for leaking or potentially leaking electrical transformers, drums, parts, etc.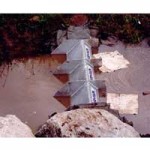 The Emergency Response Unit (ER Unit) was designed specifically for emergency response situations. The unit is portable and can be easily deployed at a spill in running water. The image shown is an actual site where multiple ER Units were installed by an Emergency Response Crew in less than twenty minutes upon arrival. The stream shown contains 1000 gallons of diesel fuel from a major railroad refueling station. The ER Unit is ideal for oil spills in creeks, running streams, storm water ditches, etc. The ER Unit's high discharge rate, portability, and reusability make it a very economical choice in emergency response situations. In some cases, the ER Units are left on site as a secondary containment for possible future spills. The unit weighs approximately 125 pounds and can be easily carried and installed by two men. Installation is easily accomplished by simply leveling the unit at the proposed site and stabilizing the ER Unit with packed dirt or sand bags forming a dam across the moving water. This installation allows the uncontaminated water from the stream to run through trapping the oil behind the unit. For larger flow of water, multiple ER Units may be bolted together to accommodate the width of the stream or running body of water.
See Examples of Installed Units in Our Product Gallery